When you decide to move your home from your current address to a new premises, it's common to try & sell your existing home, & buy the new home at the same time – & to settle the 2 Contracts on the same day. You may have successfully bought & sold on the same day before – & if it all went smoothly, you'd think it's common-place & the normal thing to do.

---
Same-Day Settlements
We don't recommend same-day settlements when buying and selling.  Often you have no choice but to do it all on the one day.  It's fine when it works, and most of the time it does.
Moving your home can be one of the most hectic, tiring & longest days you will experience.  The day starts early packing and loading all your furniture and belongings into the removalist's van, and ends later when you are unloading and unpacking at your new home.  That's if all the legal processes work 100%!
On some occasions, one of the Contracts can't settle.  This is usually because one of the banks is unable to complete their role – whether it's to hand over the buyer's cash, or to hand over the seller's mortgage release.
The removalists van is fully loaded and waiting outside your new home.  But the Contract cannot be completed – and the van can't be unloaded because the Seller won't agree to allow your goods to be stored in the property.  Your meticulous plans, timed to the minute, suddenly come to a grinding halt!!

At best, the consequences can be awkward and uncomfortable – at worst the consequences might be legally significant and very expensive.  It all depends on which party is at fault – who is unable to complete the Contract.
Where the Buyer of your home is unable to complete your Sale Contract (because they are not ready), you will be unable to complete your Purchase Contract (you will be at fault for the second contract – unless you have a special condition protecting your interests).
We can write chapters about the legalities and the special conditions which you need to insert into your contracts before you sign – but that is not the point of today's article.
The reality that a Contract cannot be completed might be your fault, or it might be your bank, or it could be because the other party or their bank is not ready.
Whatever the cause of the delay, settlement of one Contract cannot take place and therefore other Contracts (which are dependent upon the first contract being completed) cannot take place.  You have an inconvenient situation to manage – and perhaps you have nowhere to sleep.
Recent Example
We recently had to manage such a scenario where our client was buying a Gold Coast property, however their Lender was not ready to hand over the funds to complete the Contract on the settlement date.
Not only was our clients Gold Coast purchase Contract frustrated, so too was the Seller's purchase contract for their new home in Brisbane.  It took the Buyer's lender an additional 3 weeks to get ready to settle – with the Buyer incurring unwanted stress, costs and expenses as a consequence.
We don't know what impact this may have had on the Seller of the Brisbane property, but it is possible that there could have been a series of connected contracts which were all affected by one settlement being unable to be completed – causing major interruption to many peoples lives.
What Could You Do ?
Whilst we all understand that prevention is always better than a cure, you'd need a compliant and understanding other party to a Contract to include the necessary safeguards into a Contract:
If you intend to settle your sale contract and your purchase contract on the same day, include in your Sale Contract a special condition allowing you to remain in your property for a week or more after settlement.  During that additional time, you can settle your purchase contract, carry out repairs on the new property before you move in, and then move in without undue haste or stress.
Another option is to settle your Purchase Contract a week or more before settling your Sale Contract.
Two potential problems come to mind with this approach:  1. You may need bridging finance – which will take more time to organise, and will cost you more (fees & interest).   2.  The Buyer of your property may delay settlement (or not settle at all) resulting in paying more fees & interest.  If this idea appeals, ensure your Sale Contract requires the Buyer to pay the maximum 10% deposit.
There are a dozen different scenarios that might apply to you and the other parties to your contracts, and therefore different limitations on what you could do – particularly as to what the other parties to your two contracts are prepared to agree to.
When you are dealing with investors, it might be easier to organise what you need.  If they are the Buyers who are not moving into your existing property, or if they are Sellers who are not moving out of the property you are buying, they will be easier to negotiate with as they are not being personally disrupted and don't need to reschedule furniture removalists.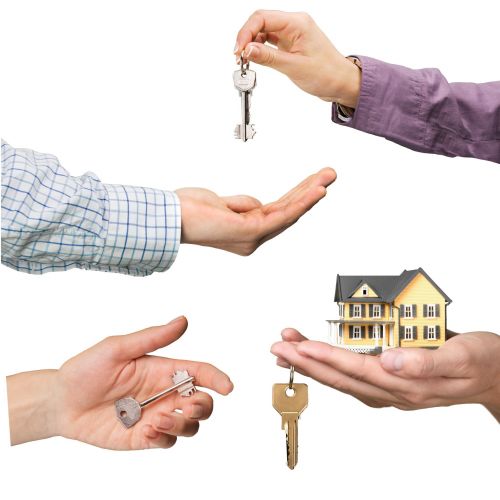 ---
Disclaimer: The above is to be considered as general education. This is not advice and it is not to be acted upon without advice from a qualified professional who understands your personal circumstances.
Copyright © 2017 Wockner Lawyers. All Rights Reserved. Contact Wockner Lawyers – [email protected]. This article may not be used without the prior written consent from the author. See below for more details…
DO YOU WANT TO USE THIS ARTICLE IN YOUR E-ZINE OR WEBSITE? You can, as long as you include this text copy in its entirety:
For assistance with your Property Law, Conveyancing and Retail and Commercial Leasing needs, contact Wockner Lawyers.